A Wonderful opportunity for the LA Sainte Union Community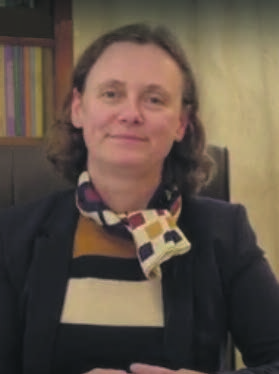 When I was offered the chance to join the Highgate Newtown Community Partnership, I instantly felt we were the perfect school to lead this. We are delighted to offer our pupils and the local community free after-school and holiday education and skills. It is an exciting opportunity to make a real difference to local people in a time of hardship and financial crisis for many families. In 1860 the school was created from a desire to offer education to poor local children who could not afford it.
Since then, the school has always had a community outlook. A focus on charity is at the heart of our ethos; after The First World War and the terrible influenza, it was the Sisters from LSU who raised the money to reunite refugees from Belgium with their families. The school hosted members of the RAF and dozens of refugees during The Second World War.
The basement of LSU became a regular air-raid shelter for local people. It is an honour to be able to help our own students and the people who live nearby, offering them a safe and warm space to read, learn, eat and have fun.
What will the highgate newtown Community at LSU do?
Our aim is to empower people through building their skills in a variety of subjects and hobbies. As a school with a strong science technology and mathematics programme, and with an excellent tradition for the performing arts including drama and music, we are ambitious about sharing the talents of our staff and offering employment to local expert staff as well. Some of the subjects include: Business, Maths, english, Drama, Martial Arts and Yoga.
We offer 'wrap-around' care for our students, from 7.30am until 7.00pm, with a free breakfast for all. This not only gives parents the chance to do a full day's work, it means they can feel reassured that their children are supervised and well looked after, with revision classes, tuition, study facilities and many clubs on offer, led by our expert staff.
Our partnership with HNCP will build on this and create opportunities to open up our facilities to the wider community. We are launching our partnership with a bake off event with Channing School on 10th October, and we are busy planning a Christmas lunch for the elderly on 7th December.
What are our long-term goals?
We are excited about creating a new summer camp and further education support, such as Saturday family learning activities, where our facilities can be utilised and families can cook, make and create together.
Do you need to be Catholic to take part?
We help all people grow, no matter what their beliefs are. We offer school places to people of all faiths – or none. At LSU we celebrate different religious festivals, as well as having a multi-faith prayer room that is used every day. It is the values we teach – to care for each other and the earth, to focus on equality and charity, which is at the heart of our ethos.
I look forward to seeing you very soon!
Please email general@lsu.camden.sch.uk for more information, or visit our website to learn more about our facilities and school www.lasainteunion.org.uk.
Mrs Sophie Fegan, Headteacher